Mafia Madness 4: Revival
is the upcoming fourth installment of the Mafia Madness series. It introduces th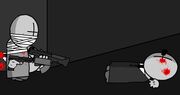 e
MMV2
. A preview of the episode was released on 27th of December 2012
Along with the new menu, The preview begins with a recap of the 2nd and 3rd episodes as Kage Narrates: HE TRIED KILLING ME ONCE. (Kage is shot in the jaw by an M1911.) I BARELY SURVIVED... (Kage is seen putting his bandages on) I KILLED MY FIRST MUTANT (Kage kills Mike with a katana) AND ALMOST KILLED HIM...(Kage shoots the Mafialeader with a TMP, Kage is then killed by a FAMAS) INSTEAD, I MET MY END. BUT, IT'S NOT GOING TO REMAIN THAT WAY. SOMEWHERE IN GLEN.
The episode opens to a Mafia man killed with a silenced Five-Seven, weilded by Kage. The body caught the attention of another and Kages kills him by kicking then shooting him. This is the first episode with a MMV2.
Animations by Madnesscrazy123
Ad blocker interference detected!
Wikia is a free-to-use site that makes money from advertising. We have a modified experience for viewers using ad blockers

Wikia is not accessible if you've made further modifications. Remove the custom ad blocker rule(s) and the page will load as expected.