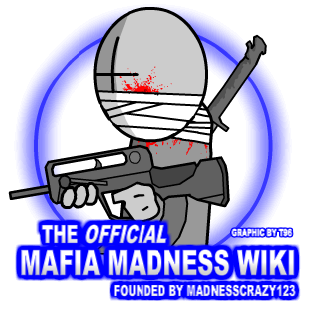 The newest episode, Mafia Madness 3: Revenge was released on 03/31/2012.
---
Welcome to the Official Mafia Madness Wiki.
All you need to know about Madnesscrazy123's Mafia Madness.
About this wiki  · New pages  · Categories  · Wiki tutorial  · Help pages  · All Pages
---
Welcome to the Official Mafia Madness Wiki. This is wiki all about the Mafia Madness series animated by Madnesscrazy123 (A.K.A the Founder of this wiki, Blud D Mess). This wiki is still a work in progress, so be patient whilst your friendly administrators (listed below) work on shaping the wiki into a masterpiece. We are currently working on 31 articles. Like everywhere else, vandalism is unacceptable. You may recive a ban depending on the severity of your offense. Most of the time we can catch the vandals, but sometimes we can't. If you see vandalism, report to any admin as soon as you can. If you have any questions, feel free to send any admin a message on their Message Wall.
---
Administrators: Blud D Mess (Founder and Series Creator)  · Tarantulakid96 (AKA T96)  · Clifftybonbons
---
Homepage designed by Tarantulakid96.
Gallery
Table of contents
General
Animations
Characters
Miscellaneous

Artists


General

Episodes


Unreleased Episodes

Protagonists


Antagonists


Goons

Unrealated Episodes

For all animations, click here.
For all characters, click here.
Undefined 2
Wiki Activity