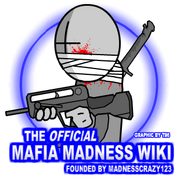 The Official Mafia Madness Wiki was founded by Madnesscrazy123, AKA Blud D Mess on the wiki. A young animator who is dedicated to producing his series. The wiki is here to informing you about Madnesscrazy123's series, Mafia Madness.
Shortly after the creation of the wiki, friends Tarantulakid96 and Clifftybonbons joined Madnesscrazy123 to help build the wiki. Tarantulakid96, a dedicated and daily editor, as well as graphics designer. Clifftybonbons, a generous friend willing to help out.
The wiki is still growing, and we always welcome the help of newcomers! Enjoy your stay at our wiki.
Ad blocker interference detected!
Wikia is a free-to-use site that makes money from advertising. We have a modified experience for viewers using ad blockers

Wikia is not accessible if you've made further modifications. Remove the custom ad blocker rule(s) and the page will load as expected.