Mike Stevens is the secondary antagonist of the series, he is aged 29 and killed twice in the series.
Mafia Madness 4 Bio
Edit
The secondary antagonist and the Mafialeader's assistant. He's been mutated twice, causing him to become slightly insane. He's determined to kill Kage Jason, even if it mean sacrificing his team mates in the midist of battle. He also has a secret desire to overthrow his leader.
Predicted Personality
Edit
In his debut he was cowardy and when at gunpoint all he did was back off only to be killed. When he returned in Mafia Madness 3: Revenge his personality change from cowardly to aggressive, and his appearance changed drasticly. He has a Rivalry with Kage Jason as he was killed by him twice.
Appearance
Edit
He looked simular to a plain Mafia man with the exception of a small triangle goatee.
His appearance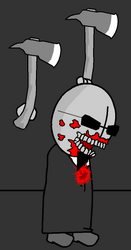 changed to look Identical to a zombie from the Madness combat series, with an exception of have the same skin tone of human characters, axes as a part of his hands and goatee on his jaw. One of the three bullet wounds he achived in the last episode remains on his chest. His primary weapon for this episode were
Hand Axes
.
His appearance remains the same with the exception of having a small cut wound in the middle of his face, the right side of his face and body stitched up and green gradient glasses, His Hand Axes Are replaced with Hand Shots.
Mike is so far the only character to be mutated twice.